Here's a sneak peak at the Barns!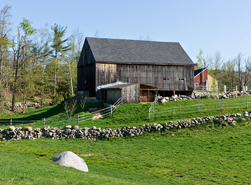 Burnham Barn (c. 1850).
Most of the original features in this outstanding architectural gem are still intact. The large posts & beams are hand hewn, while the braces, nailers, & minor rafters are sash sawn. Major rafters have 2 major purlins running horizontally.The foundation is made of large dry-laid stones, with the cellar open on the south. Miniature horses, Nubian goats and adorable baby goats to pet plus wonderful antique equipment. read more...
Sponsor: Farms & Barns Realtors
---

.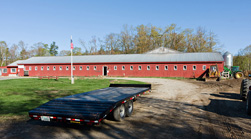 Connolly Brothers Dairy Farm (1982). A herd of prize Jersey cows lives on this active dairy farm, providing the milk for the Connolly Brothers' renowned ice cream. The farm store sells fresh (raw) milk, ice cream, beef, eggs, yarn and other wool products. Also composted manure. Pasture walks, milking & wool-spinning demos, food and, of course, homemade ice cream for sale. read more...
Co-Sponsors: Belletete's Hardware and Wilton Animal Hospital
---
.

Connolly Brothers Composting Bedded Pack (CBP) Barn (2015). The primary motivation for a CBP barn is cow comfort – and health. The barn is bedded with fine, dry sawdust. Tilled twice a day, the pack provides insulation against cold surfaces in winter, and good footing. Since cows are less likely to go lame, develop sore hocks, or undergo stress, they are better able to resist infection. Farmers also report a significant increase in milk production. A NH state expert on CBP barns will discuss this ground-breaking development. read more...
Co-Sponsors: Animal Care Clinic of Peterborough and Eaton & Berube Insurance
---
.

Felt/Tobey/Scott Barn, Tobey Lane (1780s). One of Temple's earliest farms. Charles Tobey bought the property in 1903, and in 1962 Ken and Martha Scott moved into the house.
The original builders laid the sills across a two-foot trench, allowing the building to move up and down with the freeze-thaw cycle. By the early 21st century, when the sills on three walls began rotting away, local builders jacked up the barn to permit the laying of a new foundation. There it stands today, good for another two centuries. Display of antique farm equipment; stunning views. read more...
Co-Sponsors: The Petersons, Inc. and RBC Wealth Management
---
.

Oak Hill Farm (1781). A unique feature of this large post-and-beam barn is an interior square silo. Catwalks connect several levels of hay lofts. Platforms and troughs for the cows still exist along with stalls for work horses, as does an interior elevated walkway for the cows to return from the fields.
In 1976 the New Hampshire State American Revolution Bicentennial Commission presented a Certificate of Recognition marking the ownership of the farm retained in the same family for at least 200 years. Twelve years later the United States Secretary of Agriculture designated Oak Hill as a national bicentennial farm. Shingle-mill demonstrations by Mel Rossi will highlight the event, and new owner Kent Perry will answer questions about his collection of antique farming tools. Priscilla Weston will also be on hand to talk about the farm's long history. read more...
Co-Sponsors: Port & Starboard, Temple Emporium, William H Wildes General Contracting
---
.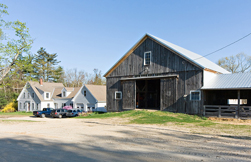 Sartell Farm (early 1800s). Connie the Guard Donkey protects her 35 Oxford sheep at this well-known sheep farm. The 40X60 post & beam barn was moved in 1850 & re-pegged. Sheep grooming, lamb rambles (take a lamb for a walk!), hay rides. read more...
Co-Sponsors: Temple Drama Club and Matt Cabana, Bean Group Realtors
---
.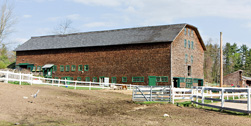 Touchstone Farm (1754). The three-story post and beam bank barn -- designated a "Barn of True Distinction" by the State of New Hampshire -- houses 50-70 horses and provides lesson programs, summer camp, and horse shows. The barn also hosts Horse Power, a therapeutic riding program and camp.
The stonewall foundation rocks were hoisted by lever, oxen, or horse. Stagecoach horses were switched on the second-floor aisle, with pulleys removing the harnesses from the tired horses and lowering them onto fresh horses. Horsemanship classes are held here and horses prepped for special events, and old horses receive special "TLC." . Tour day activities include riding with games, jumping, and carriage driving. Vaulting with the Renaissance Farm Vaulting Team just back from East Coast Regionals will fly high with gymnastics on the moving horse. read more...
Sponsor: Achille Agway
---
.
Photos courtesy of James Thomas, Linda Bollinger, and the barn owners.